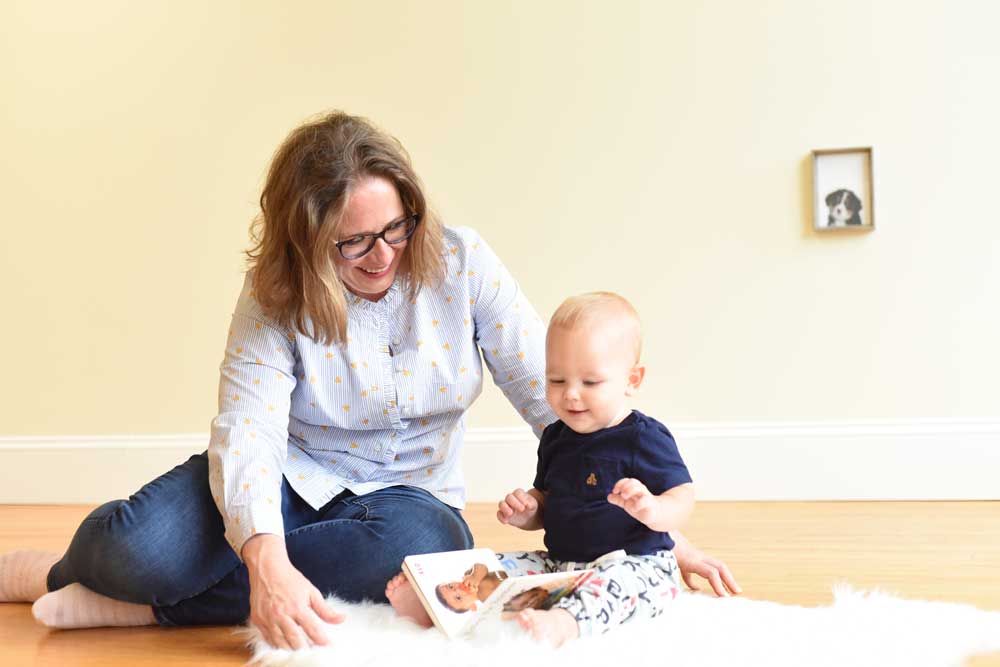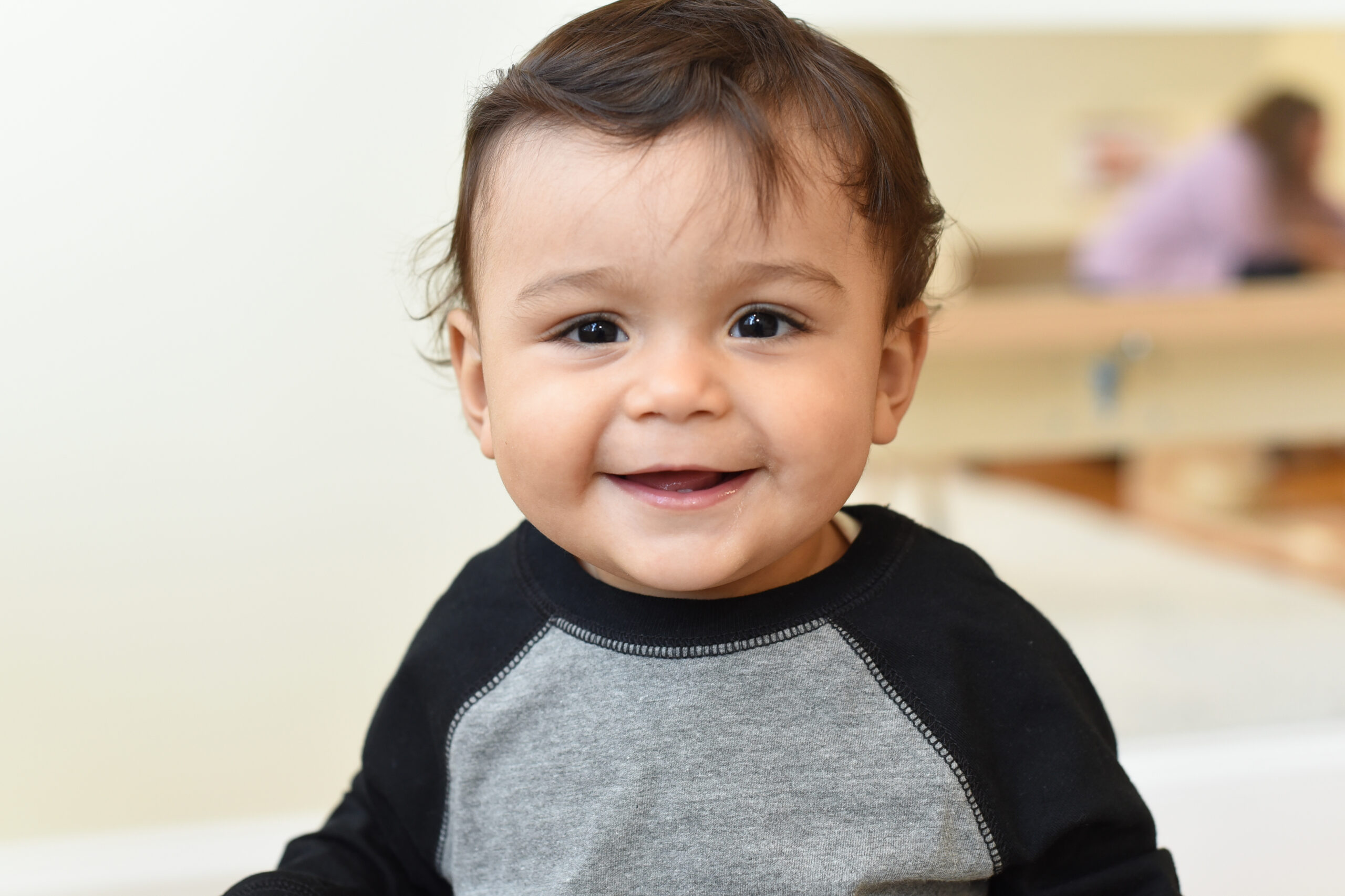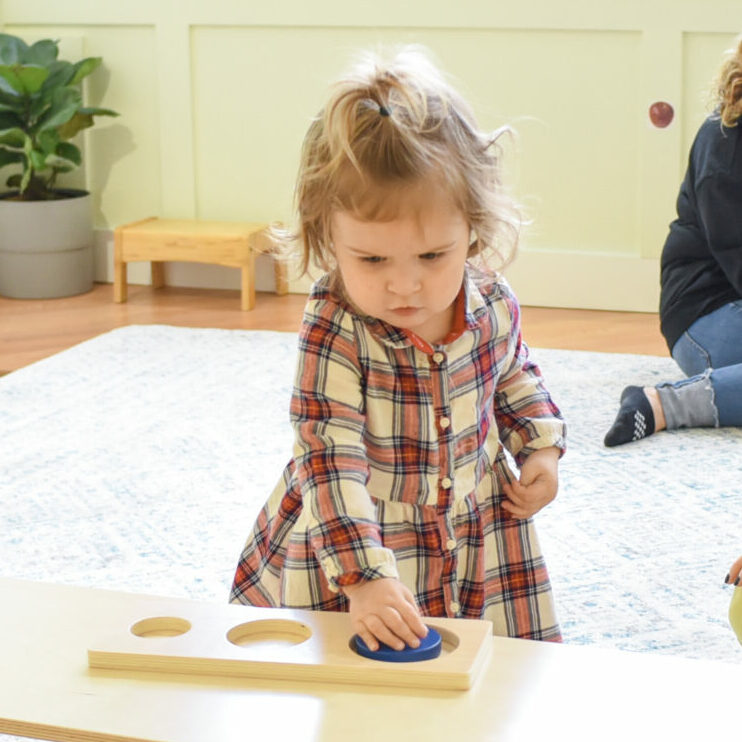 Expect: reading, climbing, eating, chatting, puzzling, sorting, jumping, painting, pouring, flower arranging, singing, reaching, carrying, dusting, drumming, scrubbing, watching, laughing. Your child will choose the activities that are most interesting each day and work with them for as long as he or she likes, while you observe, chat, and enjoy a special hour of learning together. We finish each class on the rug with a short group time with songs, instruments, conversations, and movement games.
At first, many children feel comfortable with their caregivers nearby throughout class. Over time, you'll notice that your child will begin exploring even as you stay in one spot. We try to take some written observation notes for a few minutes during each class to help connect our parent education topics to your child's own development. You'll also have plenty of time to enjoy working with the materials along with your child and to get to know the other adults in the class.
The Montessori method is based on the theories and materials developed by Italian physician and educator Maria Montessori. A Montessori early childhood classroom is prepared to support children's concentration, coordination, independence, and sense of order using activities designed to meet each child's individual developmental needs. Montessori classrooms are peaceful, purposeful, and joyful!
Not at all. Our area is lucky to have many wonderful preschool options. The activities in Montessori parent-child classes can be a delightful stand-alone experience, even if you plan to send your child to a school that follows another early childhood approach.
Pop-in classes are:
an add-on to the current session's classes
a way for families curious about Clementine to try a single class
a makeup opportunity for families enrolled in a full session
a chance for families who aren't able to commit to a full session to enjoy Clementine classes more flexibly
Pop-in classes run just like a typical multi-age class.
The pop-in schedule is added once the session is underway; watch the website & social media for details.
Pay for pop-in classes individually, or buy a 3- or 6-class pack first and then sign up for classes. Once you purchase a class pack, you'll receive a gift certificate code to use when you check out.
Questions or issues? Just email me!
Each session's tuition includes your weekly class, monthly live & virtual evening parent discussion sessions, periodic special events (park walks, gym times, social outings), and access to weekly parent education & resources via our private instagram group. I'm also very happy to chat with you over the phone or via email regarding specific questions about your child's development.
During the summer session, we take a break from these extra activities, so classes are offered at a reduced tuition rate.
Yes, your child may come to class with any caregiver: parent, grandparent, or nanny. It's generally best if the same adult attends consistently, but especially once your child is familiar with the classroom and routines, it's fine to have someone attend in your place if needed.
Just one adult per class, please. If you have a special guest visiting, the extra adult (the guest or parent, if the guest attends in place) is welcome to join us at the end of class for our group gathering.
Yes, your non-mobile baby is welcome at no charge at an older sibling's crawler/toddler/multi-age/preschooler class. For two or more mobile children from the same family, consider the multi-age class option. There's a 10% sibling discount; please email for a discount code.
Since the environment is arranged with each age group in mind, for space and safety reasons, no older siblings, please. Depending on the ages of the children, the multi-age class could be an option; please email me and we can decide if this would be a good fit.
An open classroom morning is offered each regular (winter, spring, fall) session. This is a great opportunity to show off the classroom to an sibling!
Each family may make up two missed classes per session. The first will be issued as a credit which can be used either for a pop-in class (scroll down for more information) or toward a future session's tuition. The second can be used for a pop-in only.
To keep groups consistent and to avoid crowding the classroom, makeups during other session classes are not available.
Any class canceled by Clementine (if I am out sick) will either be offered as a whole-group makeup during the week following the session, can be credited toward a future session, or refunded on a prorated basis.
There are several pop-in classes scheduled each session; feel free to sign up either as a makeup for a missed class or as an add-on to the current session. Pop-ins are also available to new families.
Families registering for more than one class, whether in the same or a different class, or for each additional weekly class for the same child, will receive a 10% discount for each. Please email for a discount code.
Class packs are a great way to save on pop-in and summer classes, and families also enrolled in the current regular session save 20%.
New families can attend a trial class for $20 off with code FIRSTPOP.
An early registration discount is offered each regular session (fall, winter, spring); watch the website for dates and details.
There may be scholarships available; please email to find out more.
You can request a refund for a regular-session (spring, fall, winter) enrollment prior to the first class, less a $25 administration fee.
No refunds on pop-in class or pack purchases.
Covid mitigations include small & stable groupings, 30+ minutes between classes, regular cleaning and sanitizing, and HEPA air purification. 
Clementine classes are currently mask-optional. I understand that everyone has different comfort levels, and never want masking policies to keep families away from the classroom. If you are interested in a masked pop-in class, please email me.
Should Illinois return to a state-wide mask mandate in the future, all classes would convert to mask-required. In mask-required classes, adults must wear masks covering mouth and nose, and children 2+ will wear masks as they are able.
CLICK HERE for the most up-to-date information on Covid protocols.